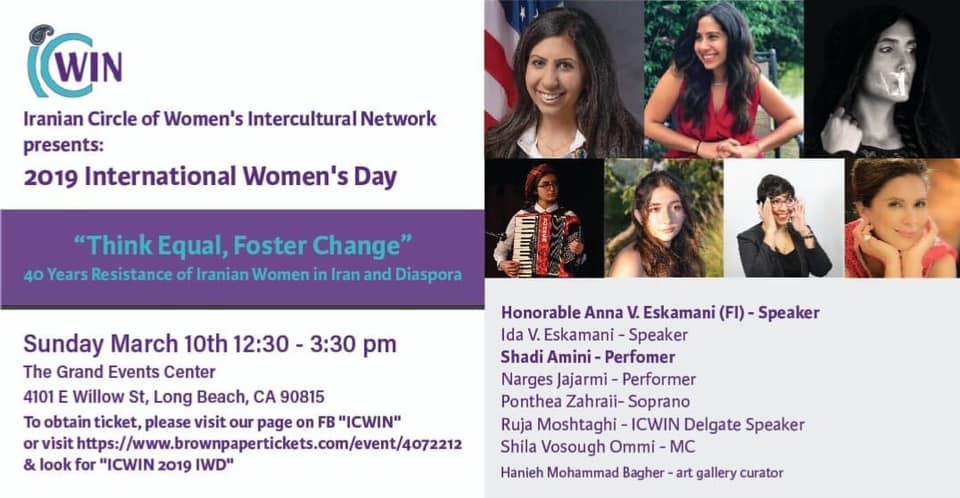 Take advantage of early registration pricing, available up to February 17th ONLY
To purchase ticket please visit:
https://www.brownpapertickets.com/event/4072212
"THINK EQUAL, FOSTER CHANGE"
40 Years Resistance of Iranian Women in Iran and Diaspora
**ICWIN 2019 Celebration of International Women's Day**
An Engaging, Educating and Empowering Event
Art Gallery, Engaging Conversations, and Live Performances
Keynote Speakers:
* Honorable Anna V. Eskamani (D) — Newly Elected Representative of Florida Assembly district 47. A community organizer with a proven track record in building consensus while fighting unapologetically for progressive values, Anna served as the Senior Director of Public Affairs and Communications for Planned Parenthood of Southwest and Central Florida. She is known across the nation as an advocate for women's health and equality. In addition to her professional work, Anna is a PhD student studying Public Affairs at the University of Central Florida.
* Ida V. Eskamani — She currently facilitates statewide and local public policy efforts for several progressive organizations in Florida, including Organize Florida, New Florida Majority and Florida Immigrant Coalition. She previously served as Chief of Staff to Florida House Representative Carlos Guillermo Smith, the state's first openly Latinx lawmaker. She also serves on the Board of Directors of the Contigo Fund.
ICWIN Delegate Speaker:
* Ruja Moshtaghi — As a community organizer, the last two years she has focused on working in refugee camps in Greece and most recently has worked to mobilize the minority vote and encourage civic activities within the local community.
MC:
Shila Vosough Ommi (Actress, Prolific voice-over artist, Human Rights Advocate)
Performances by:
* Shadi Amini, Live Performance by the voice of young Iranian women singers dedicated to amplifying current social issues in Iran
* Narges Jajarmi, Live Performance by talented musician and street performer
* Ponthea Zahraii, Live Performance by soprano
THE GRAND LONG BEACH
4101 E Willow St, Long Beach, California 90815
Sunday March 10, 2019
Art Gallery: 12 pm – 4 pm
Program: 12:30 pm – 3:30 pm
Refreshments are provided; Networking Reception will follow
Take advantage of early registration pricing, available up to February 17th ONLY