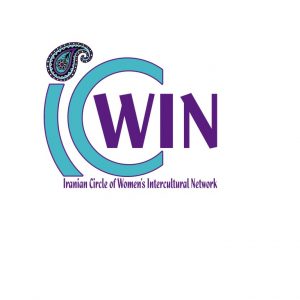 Mission of ICWIN
The Iranian Circle abides by WIN's mission and policies and will follow an expanded mission and set of goals in it's programming. The Circle will focus on raising consciousness on issues related to Iranian women both inside Iran and in the diaspora. In addition, the Circle aims to serve as a bridge not only connecting the Iranian women's communities but also to connect them with other women globally. ICWIN believes that while women share universal issues and struggles, they also have unique issues and struggles within their own socio-political communities and individual lives. Hence, ICWIN aims to discuss and present topics related to gender equality in a global framework.
About ICWIN
ICWIN was formed in August of 2015 after seven months of deliberations with the Iranian women's communities in Los Angeles and Long Beach. The addition of the Iranian Women's circle was announced at the 20th anniversary celebration and call to action that WIN held in San Francisco on September 12, 2015.
Join ICWIN to celebrate Women's Equality Day
and to honor Maryan Mirzakhani
August 27, 2017 at the MLK Jr. Auditorium, Santa Monica Library, Doors 1:30, Program 2:00-4:00 pm.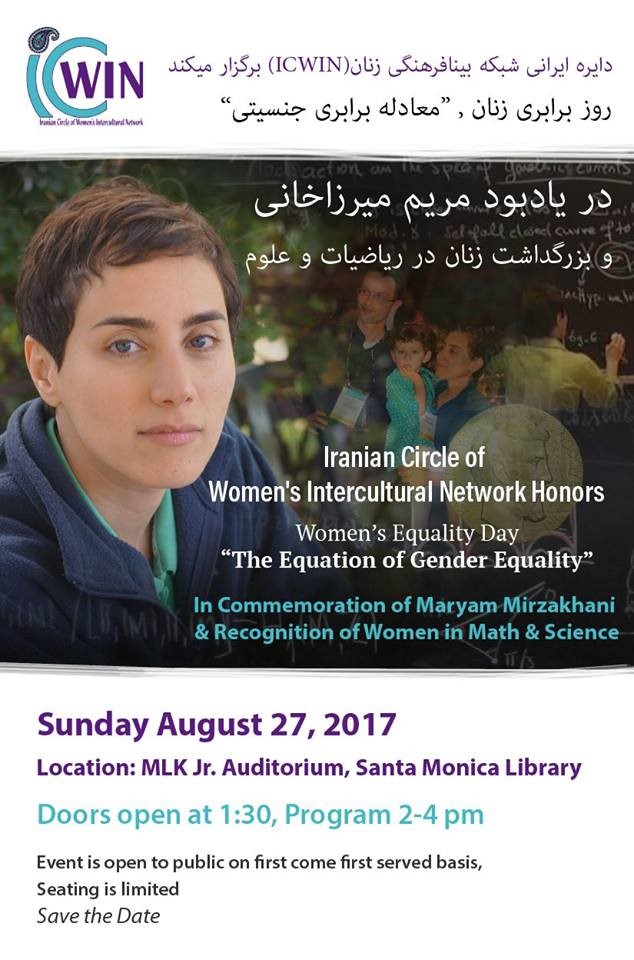 Iranian Circle of Women's Intercultural Network ICWIN Honors Women's Equality Day "The Equation of Gender Equality"
In Commemoration of Maryam Mirzakhani and Recognition of Women in Math and Science.
Date: Sunday August 27, 2017
Doors open at 1:30pm Program 2-4pm
Location: MLK Jr. Auditorium, Santa Monica Library
Master of Ceremony: SVP, Global Marketing at GENBAND & President, Butterfly Buzz
Keynote Speaker: Dr. Roja Bandari, Data Science and Engineering Manager at Apple
Conversation :
Sara Hariri, Lecturer, Computer Science Dept. CSU, Fullerton
Laleh Ramezani, Electrical Engineer & Sharif University of Technology Alumni
Nooshin Yoosefi, Supervising Transportation Engineer, Caltrans, OC
Moderator: Pardis Ghandhari, Medical Social Worker
Artistic Performers: Khatereh Gharagozloo, Master Santur Artist
Shabnam Kalbasi, Mezzo-Soprano
Event is open to public on first come first served basis. Seating is limited. Program is in English
Facebook : Iranian Circle of Women's Intercultural Network ICWIN
Twitter : ICWIN @zanan4change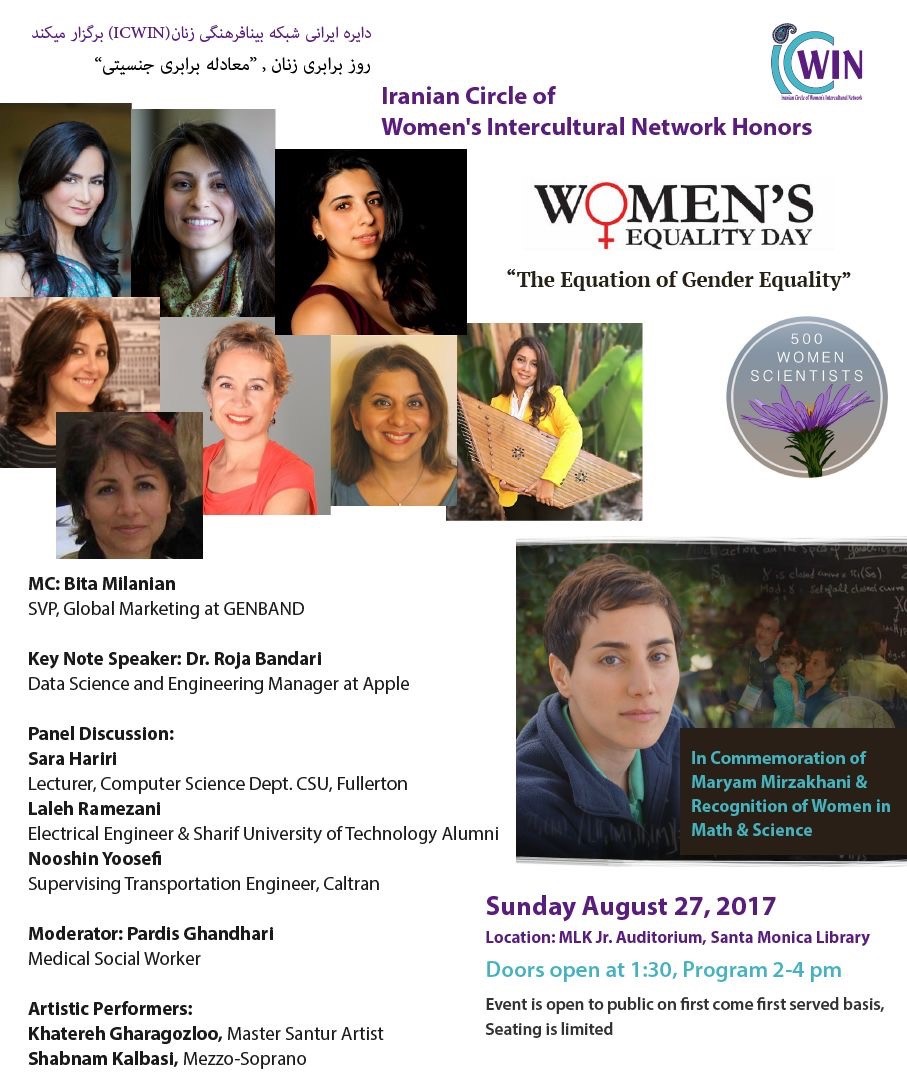 For more information on Women's Equality Day events: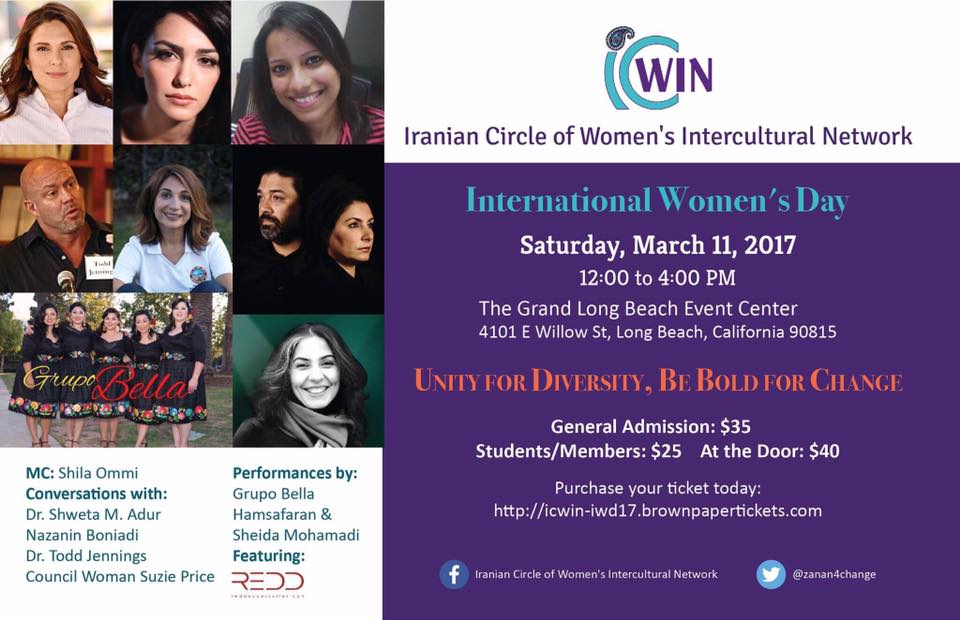 See event details at this Facebook event page
Tickets available at Brown Paper Tickets
"UNITY FOR DIVERSITY, BE BOLD FOR CHANGE"
ICWIN 2017 Celebration of International Women's Day
An Engaging, Educating and Empowering Event
Performances by:
* Hamsafaran (Companions) & Ms. Sheida Mohamadi
* Grupo Bella (All Female Mariachi Band)
Thought Provoking Presentations by:
* Dr. Shweta M. Adur, Assistant Professor of Women and Gender Studies at CSU, Fullerton
* Nazanin Boniadi, actress and award-winning human rights activist, spokesperson for Amnesty International USA (2009-2015)
* Dr. Todd Jennings, professor in the College of Education at CSU, San Bernardino and Director of the Gender and Sexuality Studies Program
* Suzie Price, Council Woman 3rd District City of Long Beach
Master of Ceremony:
* Shila Ommi (aka: Shila Vosough), actress, director, writer and producer
BUY YOUR TICKETS TODAY:
http://icwin-iwd17.brownpapertickets.com/
Take advantage of early registration pricing ($30) available up to February 25th
General Admission ….. $35
Students /Members …. $25
At the door ……………… $40
THE GRAND LONG BEACH
4101 E Willow St, Long Beach, California 90815
Saturday, March 11, 2017
Art Gallery: 12 pm – 4 pm
Program: 1 pm – 3:30 pm
Refreshments are provided; Networking Reception will follow
Contact us at: icwin@winaction.org
Link to our March 2016 event:
https://youtu.be/oMVJATUf6Ss