WIN's mission is to assure that all women and girl's voices are heard in public forums for full participation in their governments and economies.
EXPANDING THE CIRCLE OF WOMEN'S AND GIRL'S LEADERSHIP FOR COLLECTIVE ACTION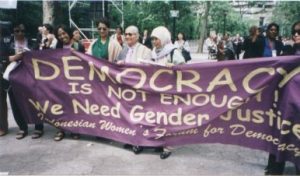 The Women's Intercultural Network was incorporated in 1995 as a 501c(4) non-governmental organization consultative to the United Nations Economic and Social Council.
WIN's mission is to assure that all women and girl's voices are heard in all forums to give the full participation in their governments and economies.
Our Mission has not changed. Our tools and technology have.

WIN UN Delegation, March 2011, with Anika Rahman, President/CEO, MS Foundation
WIN has been connecting women and girls across cultures, globally and in US communities since 1994 for collective action on the ground and on the internet to pursue our Mission. WIN built the first policy mechanism to implement the Beijing Platform for Action from the 4th World Conference on Women, known globally as CAWA- the California Women's Agenda.
Our goal is to create a global women's network that can function on the ground and electronically across cultural and digital divides for collaboration on mutual concerns. WIN is CALLING THE CIRCLE globally using the CAWA organizing model as a prototype.
Follow WIN's history and story on the History balloon, our social media on the "Let's Speak Out" balloon and current events at the UN CSW 57 Sessions opening March 2, 2013 on the Beijing+ balloon.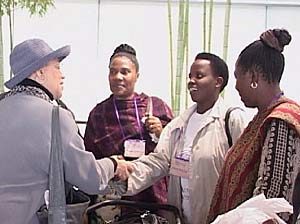 WIN's Vision and Principles:
LINKING WOMEN AND GIRLS across national boundaries and cultures
CREATING EXCHANGES of ideas and skills in professional, economic and political leadership
DESIGNING a new model for women's global communication and joint advocacy of solutions to mutual concerns by adapting information technology and new media systems for access to all women and girls.
DEVELOPING a common language of activism in addressing global issues.
HOSTING women and girls in leadership from all countries and positions in society
INITIATING NETWORKS for women and girls – both virtual and physical
PROVIDING SPACE, settings and opportunities for women and girls to come together
AMPLIFYING VOICES of women and girls to be heard around the world
BUILDING ACTION NETWORKS, such as CAWA, as a prototype for women's mobilization and action
CALLING THE CIRCLE of women leaders around the world for collaboration on social, political and economic change for women and girls.
It is the girl who shapes the woman.
Our vision is that of women and girls building bridges across cultures, classes, ages, religions, life-styles and abilities.
Expanding the Circle of Women's and Girl's Leadership for Collective Action
WIN seeks funds and resources to expand our effective network for the benefit of girls and women globally without hope, homes or resources. Please consider a donation!
WIN's story actually begins back in Kansas City, Missouri and the KC Regional Commission on the Status of Women. They held a Women's Assembly, "The Spirit of Kansas City", in 1980 and put together their Plan of Action to implement the outcome document of the "World Conference of The International Women's Year" held in Mexico City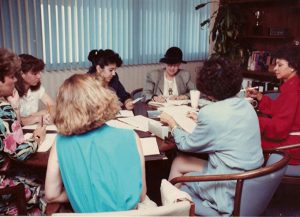 International Women's Action Council, San Diego, California, 1987
Long story short, WIN's path went from Mexico City and Kansas City to San Diego, California where it was seeded as the International Women's Action Council. IWAC was created as an advisory committee to a Ford Foundation grant in 1988 to involve women in foreign policy. IWAC was reborn as Women's Intercultural Network (WIN), in Coeur d'Alene, Idaho, in 1994. It was named by a group of women at a conference in Coeur d'Alene. Marilyn Fowler brought the 'infant' WIN back to California and put down roots in The Haight in San Francisco, California, known as the 'most progressive neighborhood' in a most progressive US city of many murals.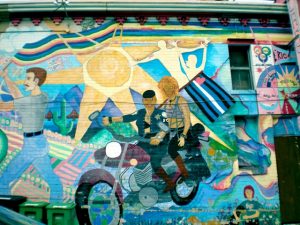 In 1995, WIN was involved at the 4th World Conference on Women, known as the Beijing Conference, where
40,000 women and girls joined together from 189 countries and agreed on the Platform for Action, a progressive document that was an imperative to advancing their status.
You can find the rest of that part of the story at the Beijing+ Balloon. WIN partnered with Apple Computer and linked them with women leaders at the NGO Parallel Forum in China, who were interviewed daily by Sue Haye on a phone from Cupertino, California. Bella Abzug gave interviews at the beginning and end of that Conference. There was no Telepresence then. Apple had 100 computers in Huairou, China and 80 volunteers who connected women for a global cyber women's movement.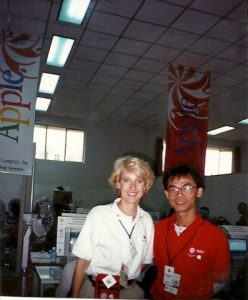 WIN took the Beijing Platform for Action (BPFA) to California, known globally as CAWA – the California Women's Agenda, as the first Policy Mechanism to implement BPFA at the grassroots. From there WIN reached out with an initiative to
"CALLING THE CIRCLE OF WOMEN FROM THE US AND UGANDA, AFGHANISTAN, JAPAN AND BEYOND FOR FULL PARTICIPATION IN OUR GOVERNMENTS AND OUR ECONOMIES"
Rebecca Bender and Apple Tech, Apple Cyber Center
AND THE REST IS HISTORY
We will continue to post the rest of our story – what is your history with WIN? And visit the other yellow balloons for more about WIN, our work and how you can be involved. In the meantime go to our Great NonProfits page HERE and write a couple of lines about your experience with WIN. Thanks for your support!
Read more about Who We Are, our Partners, and Media and Social contacts: