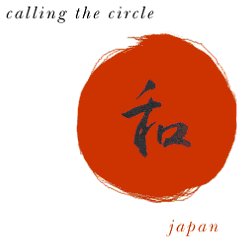 Desiging a new model for women's global communication and joint advocacy of solutions to mutual concerns by adapting information technology and new media systems for access to all women
CONVERSATIONS WITH JAPANESE AND AMERICAN WOMEN
June 8, 2000, 3:30 – 5:00 p.m., 809 UN Plaza, 12th Floor
JAPAN FORUM REPORT // Submitted by Marilyn Fowler, President/CEO Women's Intercultural Network, San Francisco, CA, USA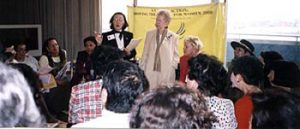 Dr. Yasuko Wachi and Marilyn Fowler, Co-Facilitators, Japan Global Forum, UN, June 2000
The Women's Intercultural Network (WIN), had the honor to co-host with Josai International University (JIU), Chiba, Japan, a Roundtable discussion between U.S. and Japanese women during the Japan For um on June 8, 2000. Several representatives from the California Women's Agenda (CAWA), a project of WIN, were attending the UN Special General Assembly on Beijing+5. These California women joined seventy women from throughout Japan for conversations about our organizations, priority issues, strategies for future action on the Beijing+5 Outcome Document and, most particularly, how we can work together for women's equality , development and peace.
"Calling The Circle" is an indigenous women's tradition of bringing leaders together for important discussions. My Co-Facilitator of the Roundtable, Dr. Yasuko Wachi, Professor of Women's Studies at JIU, translated a lively two hour discussion between the US and Japanese women. We learned a lot from each other about how we elect women to office, how our organizations are working at the grassroots, what issues we are concerned about and how we are involving young women in our advocacy work. U.S. women applauded Japanese women for their advances.
WIN, an NGO with Consultative Status to the U.N., was formed in California in 1994 to link women across cultures globally and in U.S. communities. WIN creates settings for women to come together to exchange and enhance skills in economic, political and professional leadership. We want to assure that the interests of all women and girls are presented to public policy makers for support of our sisters who are not able to speak for themselves. WIN is eager to build partnerships with Japanese women for collaborative action on the further implementation of the Beijing Plan of Action. That was the purpose of the Roundtable. We think that is possible with today's technology. We hope to stay connected through email and on-line discussion groups. We exchanged cards and email addresses for that purpose.
We invite Japanese women to our web site and to our membership.
We thank Haruko Watanabe, Organizer, Japan Global Forum and the Foundation to Support the UN, Osaka City, for this significant opportunity to meet and talk with our sisters face to face from Japan. We look forward to more conversations across the Pacific in the very near future.
Japanese interns with WIN in San Francisco
Asuka Hayashi and Minoru Ohashi framing a picture of their heroine, Yuri Kochiyama, Honorary Chair of WIN, displayed at the San Francisco Women's Building.
THE WIN AFRICA-AISA CONNECTION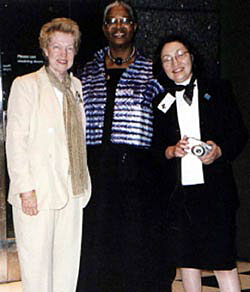 Marilyn Fowler (CEO, WIN), Ruth Bamela Engo-Tjega and Yasuko Wachi — WIN Board Members.
Ruth is a UNDP Africa Program Officer and Founder/President of the African Action on AIDS, from Cameroon. She is the Co-Chair of the US-Uganda Circle.