Join us a the UN Commission on Women, March 13-24, 2017
Registration open December 1, 2016
contact Women's Intercultural Network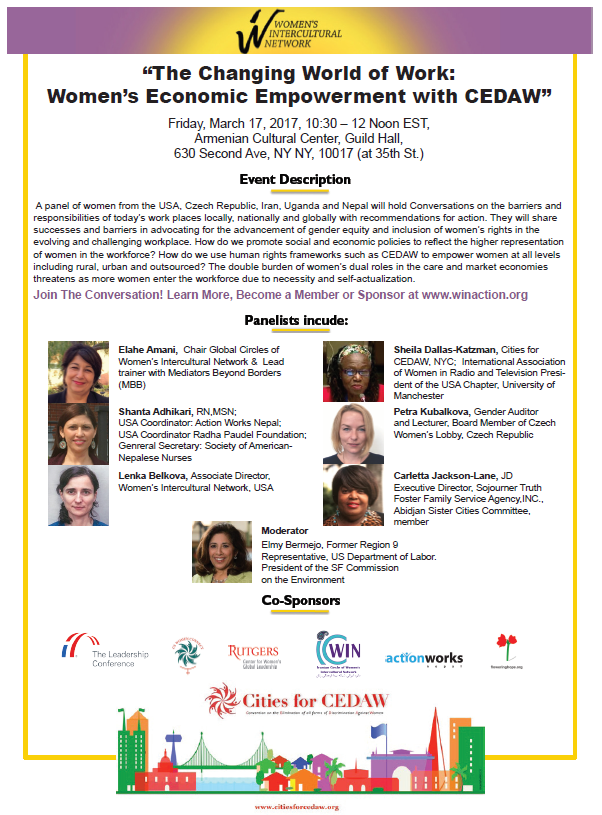 Women's Intercultural Network will host a panel of women leaders from several countries to share policy wins, barriers and challenges for women's economic empowerment in the changing world of work at this year's NGO Commission on the Status of Women Forum (NGO CSW Forum)
You are all invited!
There is no cost to attend, and the event is open to public.
You can register to attend NGO CSW Forum events on this website.
(please notify us here after you register!)
That's where the action will be! Your voice counts!
Follow us on Facebook , Twitter, our Blog and the web at WINaction.org
and at NGO CSW FORUM

The 60th UN CSW NGO FORUM was held March 14-24, 2016
WIN accredited our largest team of Delegates yet, scheduled a key Forum on CEDAW and the 60th Session Theme:
" Empowering Women with Sustainable Development."
WIN's Panel:
"Women's Human Rights and Sustainable Cities with CEDAW and Habitat III"
Tuesday, March 15, 2016, 2:30 – 4:00 PM
Thai Cultural Center, 310 Forty Fourth St. (one block from UN)
It will be filmed and tweeted.
Check back here for updates on the 25 year follow up to the Beijing Platform for Action.
See these other pages for archives of Platform for Action milestones.
UN CSW / Beijing+ pages: UN CSW
Also see the past World Conference on Women pages: