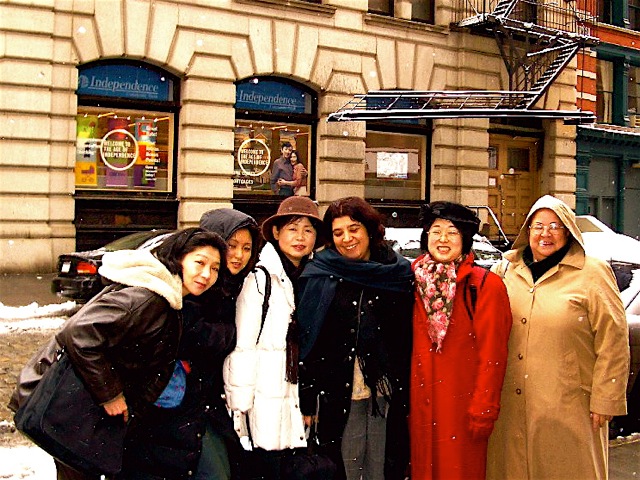 This is what a WIN UNCSW Delegation looks like – with NY snow, Emily Murase and Charilie Toledo with Japanese and Afghan Interns.
A CALL TO ACTION
THE CALIFORNIA WOMEN'S AGENDA (CAWA) AND THE CALIFORNIA COMMISSION ON THE STATUS OF WOMEN (CCSW)
MOVING THE AGENDA FOR CALIFORNIA WOMEN 2005
AND BEIJING+10
at SBC MEDIA CENTER SBC COMMUNICATIONS:
GOING BEYOND THE CALL
Friday, December 3 and Saturday, December 4, 2004
A working assembly of one hundred and seventy California activists – representatives of California based grassroots organizations, commissions on women and elected women, convened at SBC Media Center, San Francisco, CA, on December 3rd and 4th, 2004. They set priority issues and recommended strategies for a California Women's Action Agenda 2005 – 2010 and adopted a California-focused action plan to address the twelve platform issues identified at the 4th World Conference on Women, Beijing 1995.
They cheered legislators who spoke passionately about their districts and neighborhoods and heard panelists who brought expertise, experience and exciting new ideas to the table. They agreed that health, education and economic equity are still priority issues for women and girls in California, that the full implementation of CEDAW in our cities and counties, the election of progressive women to local, state and federal offices and the support of progressive men can move the agenda forward.
They drafted Policy Papers following panels on health, education and economic justice that are available for review by the full CAWA network on our web site and in the published REPORT AND PLAN OF ACTION. CAWA Task Force Chairs on the other critical concerns of Human Rights (CEDAW), Violence Against Women, Media, Environment, Girl Child, Peace & Militarism and Institutional Mechanisms are also on line and in the publication. These issues intersect and cross-cut issues such as racism, disabled women, immigrants, gay and Lesbian rights, religion, indigenous women and globalization. We invite you to read and comment at the bottom of each document and to give us your feedback on the survey "Your Voice Counts". Over 600 organizations partner with CAWA, our 19 regional and county conveners and the task force chairs for a larger voice in public policy in California.
For our introductions to the published Report and Call To Action: Still Moving Forward… Locally and Globally and Welcome to The Second Decade.
In acceptance of the Circle of Courage Award, our Congressional Representative Nancy Pelosi said to us: "Setting an Action Agenda is essential. The status of women and the well being of our children and families are in great danger. We must use our resources wisely and we cannot afford to waste one minute in implementing an agenda that will protect and enhance the status of and opportunities for women and girls throughout California, the United States and the World."
We accept Congresswoman Pelosi's challenge and intend to keep on moving forward locally, state wide, nationally and globally.
We made our voices heard globally by taking our agenda to the United Nations Ten Year Review of the Beijing Plan of Action, New York City, February 27 – March 11, 2005 and will take it to the 50th Session of the UN Commission on the Status of Women in March, 2006. In 2000 we had the advantage of a US Secretary of State who arranged for the 10 Federal Regions to present plans to her for a National US Women's Agenda, as most of the other 189 countries do who signed off on the original Plan of Action. In 2005, the Bush Administration refused to join 84 heads of state and governments in signing a statement that endorsed the 10-year-old U.N. plan and presented an amendment at the 49th Session in 2005, which was voted down by 187 other countries at the 2005 CSW Session. We recommend the summary document "Beijing Betrayed", published by the Women's Environment and Development Organization as the Global document for action.
Your voice counts! Give us feedback on your priority issues and progress in your county on our survey Your Voice Counts
Beijing+10 Call to Action Reports:
Health, Education, Media, Environment, Peace, Girl Child, Violence, Institutional Mechanisms, Poverty, Economic Justice, Power Sharing,and Human Rights
We are grateful to SBC Communications for hosting our third CALL TO ACTION
last updated 1/07 by Molly Klett
See these other pages for archives of Platform for Action milestones.
UN CSW / Beijing+ pages: UN CSW
Also see the past World Conference on Women pages: