WIN Convened our first forum on "WOMEN AND THE UN: YESTERDAY, TODAY AND TOMORROW", in San Francisco, California, May- June, 1995, during a Celebration of the 50th Anniversary of the Signing of the UN Charter .
See the program, underwritten by Apple Computer, Inc. that honored U.S. Ambassador to the UN, Madeleine Albright; Madame Wen Chi Chow, Global Federation of Chinese Business Women and Rigorberta Menchu Tum, Guatemala, Nobel Peace Price Recipient.
The 4th United Nations World Conference on Women was held in Beijing, China and the Non-Governmental (NGO) Parallel Forum was held in Huairou, on the outskirts of Beijing.
Apple Computer, Inc.sent 80 Apple Volunteers and 100 MACs to a large warehouse in Huairou, China for the first 'cyber center,' and women from 190 countries experienced email and the Global Cyber Women's Movement was launched. See WIN's HERSTORY page for WIN's involvement in connecting Apple Inc with women worldwide on E-world.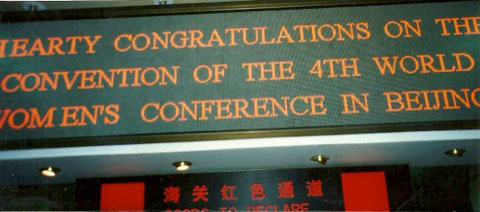 Welcoming Banner, Beijing Airport, 1995
Marilyn Fowler, WIN, Leading a Forum, 4th World Conference on Women, NGO Forum, 1995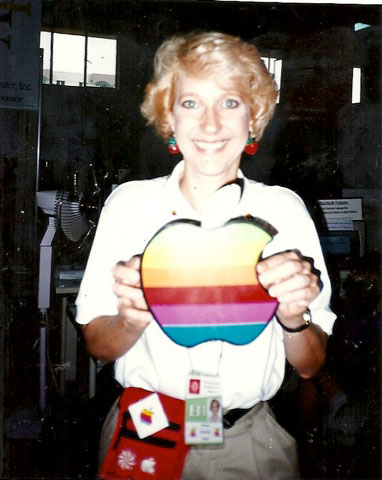 Rebecca Bender, Apple Inc. Representative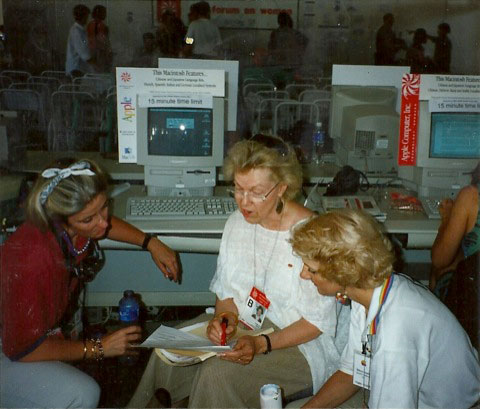 Marilyn Fowler, WIN, President/CEO and Rebecca Bender, Apple Representative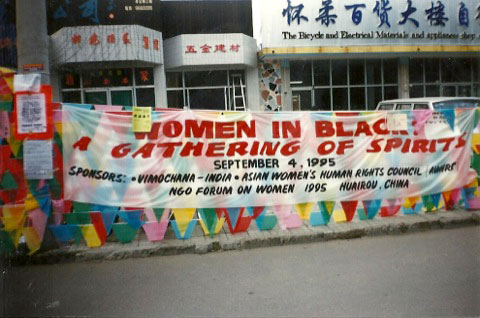 Asia Women Human Rights Council Banner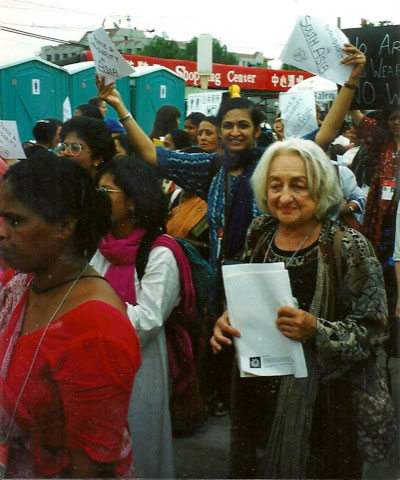 Betty Friedan at an NGO Rally, Beijing, 1995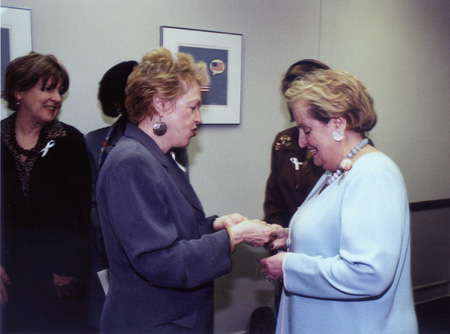 Marilyn Fowler, WIN, presenting a "Breaking the Glass Ceiling" brooch to Secretary of State Madeline Albright, March 2000, at the Beijing +5 Ceremony, US State Department.
Welcome to the President's Interagency Council on Women
Clik here for the full PICW website
President Clinton established the Council in August 1995, on the eve of the United Nations Fourth World Conference on Women in Beijing, in order to "make sure that all the effort and good ideas actually get implemented when we get back home."
The Council is charged with coordinating the implementation of the Platform for Action adopted at Beijing, including the U.S. commitments announced there. It also develops related initiatives to further women's progress and engages in outreach and public education to support the successful implementation of the Conference agreements.
First Lady Hillary Rodham Clinton serves as Honorary Chair of PICW. Secretary of State Madeleine Albright chairs the Council. The Council includes high level representatives from executive branch agencies.
MAPPING THE PATH OF THE GLOBAL WOMEN'S AGENDA WITH THE
WOMEN'S INTERCULTURAL NETWORK (WIN)
STEPPING STONES IN CALIFORNIA FROM THE 4TH WORLD CONFERENCE ON WOMEN, BEIJING, 1995
See these other pages for archives of Platform for Action milestones.
UN CSW / Beijing+ pages: UN CSW
Also see the past World Conference on Women pages: