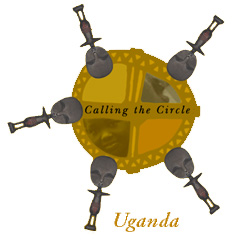 Our vision is to build a "virtual grassroots network" via the internet between Ugandan and US women for on-going discussion and learning exchange that will help us to actively pursue common concerns for joint advocacy and grassroots democracy.
also see these companion pages: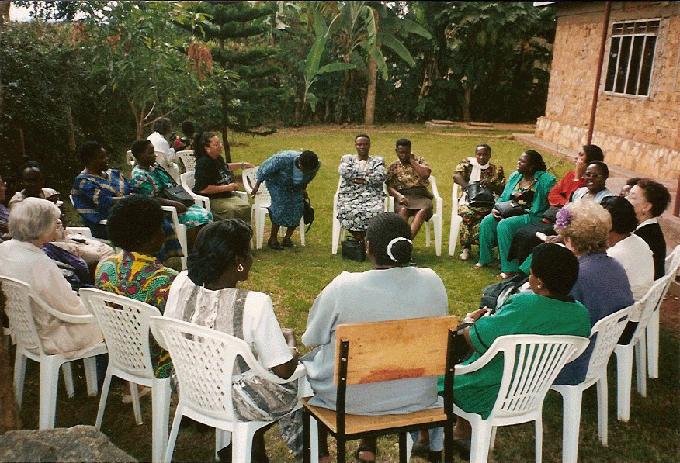 WIN-Uganda Circle, Kampala, Uganda, 2001
OBJECTIVES OF "CALLING THE CIRCLE OF UGANDAN AND US WOMEN"
Eight women representing Ugandan NGOs met with U.S. representatives of WIN in San Francisco in January, 2001.
The objectives are to:
1. Build a working relationship and lasting partnership between Ugandan and US women to create solutions together on common concerns.
2. Create new models for collaboration across cultures, technology, geography and other divides that will benefit Ugandan and US women in our work to strengthen democratic values and actions in our societies.
3. Create an effective communication mechanism for planning and joint advocacy of solutions to problems of mutual concern.
4. Learn how to form collaborative networks, both real and "virtual" (electronic) for social, political and economic actions which will support democracy building.
5. Learn collaborations.
6. Using the Beijing+5 Plan of Action as a framework, select three priority issues for discussion and joint advocacy by Ugandan and U.S. women.
7. Expand the Uganda CIRCLE of women for collaboration with other African states for collective action on their mutual issues and to link with US women.
8. Connect the Ugandan CIRCLE with "U.S. Women Connect" (USWC), the U.S. national clearinghouse for progressive women's organizations.
Participants gained new skills in:
1. Cross-cultural collaboration on mutual concerns for collective action and other mutual endeavors.
2. Creating networks of collaborating organizations.
3. The "discovery process" of identifying, agreeing and selecting priority issues for joint action by diverse groups with competing agendas.
4. Pre-selected training topics offered by U.S women for the Uganda CIRCLE. Training topics will be chosen by U.S. women from offerings by Ugandan women before the CIRCLE meets in Uganda.
5. Accessing and utilizing new media and electronic communications technology through the following types of activities: (Individual hands-on training will be available.)
• using the Internet, email, "egroups" and other new media technology tools. • creating a web site and creating data bases. o online marketing and publicity. • virtual organizing and mobilization (particularly for global or regional issues/conferences/gatherings, etc. e.g. World March of Women 2000, coordinated from Quebec, Oct. 17, 2000. • information gathering and sharing (eg. Seeking global funders) • formation of virtual organizations, boards or advisory groups e.g. using technology locally to involve non-local women/men as members of their organization or their boards and as funders. • virtual mentoring, networking and research, e.g. a grassroots NGO in Uganda will have the ability to solicit advice/help/guidance on some critical concern, activity or strategy with a familiar contact in Japan.
WHAT IS ACFODE?
Action for Development is a voluntary, non-profit making civil society women's organization. ACFODE works in close collaboration with other organizations, to improve the status and lives of women in Uganda; enabling them realize their full potential and talents enhancing their contribution to national development. ACFODE is an alliance of committed members dedicated to improve the professional, personal, legal, economic and educational status of women Formed in 1985, ACFODE seeks to create and stimulate awareness among the Ugandan society to the needs, problems and rights of women. ACFODE seeks to meet the changing needs and demands of society with significant difference.
FORUM FOR WOMEN IN DEMOCRACY (FOWODE)
Mission:
To promote gender equality in all decision making through advocacy, training, research and publishing.
Objectives:
a.To establish a Research Training Centre to prepare women and support them for leadership positions in the public and private sectors.
b.To provide women with skills training and gender awareness for increased and more effective participation in decision-making.
c.To identify and pressure for strategies to increase women¹s participation in all areas in decision-making.
d.To identify issues of critical concern to women and address them through advocacy, skills training, research and information sharing.
e.To mobilise, sensitive and educate women about their human civic rights.
f.To provide a forum for women and other marginalised groups to influence public policy through dialogue and negotiation.
g.To encourage collaboration of women leaders in the Eastern African sub-region and internationally through information exchange, seminars, workshops and conferences.
h.To cooperate with other women organisations in working toward the goal of gender equality.
HON. MIRIA MATEMBE, Minister of Ethics & Integrity

Mrs. Miria Matembe holds a Masters Degree in Law from the Development University of Warmick and a Bachelors of Laws Degree from Makerere University (1996 – 1997) Mrs. Matembe also holds a Post Graduate Diploma in Legal Practice – from the Law development Center in Kampala from 1976 – 1977). A Certificate in Trainer of Trainers from the Eastern and Southern Management Institute (Arusha 1998), A Certificate in Women Management and Development Planning from the Eastern and Southern Management Institute (Arusha). A certificate in Human Rights of Women (Austria 1993).
_____________________________________________
LEARN ABOUT THE COUNTRY
http://www.africaonline.co.ug/
WOMEN IN UGANDA
Rural Women and Information in Uganda Knowing that women are not homogenous due to their differing status in society, the paper briefly discusses the rural women's generation of and access to information for their specific needs in development….
Women of Uganda Network WOUGNET's goal is to promote the use of information and communications technologies (ICTs) by women organisations and individuals for the better being of Ugandan women….
A Celebration of Women Writers — Uganda The Celebration of Women Writers recognizes the contributions of women writers throughout history. Women have written almost every imaginable type of work: novels, poems, letters, biographies, travel books, religious commentaries, histories, economic and scientific works…
Speeches of the: First Lady of Uganda, Mama Miria Obote My fellow Women It gives me great pleasure to welcome you all to this most important occasion. I am particularly happy that for the first time in the history of this country, Uganda has joined hands with the International Community in observing this occasion…
Women's political participation in Uganda Today, I would like to discuss what has been done, what remains a challenge and dilemma and what should be done to increase women's participation in politics and the decision-making processes in Africa in reference to Uganda…
TECHNOLOGY
Kabissa Our Mission is to provide a space on the Internet for the African non-profit sector. We seek to support African non-profits in their effort to take advantage of ICT and Internet as a means for achieving their humanitarian objectives…
HEALTH
Uganda's brave fight against AIDS Busiita, Uganda–Remote and picturesque, the town of Busiita sits high in the mountains along twisting, dirt roads. It is easy to forget that AIDS also traveled these roads leaving Rachael Bubolo, a widow with eight children to feed–four of her own and four stepchildren…
The Socio-Economic impact of HIV/AIDS -Uganda HIV/AIDS is the most serious health problem in Uganda today and the leading cause of death for adults…
BOOKS
Women and Politics in Uganda, Aili Mari Tripp
also see these companion pages: