WIN is an NGO Consultative to the UN ECOSOC and partners with multi-diverse networks locally and globally.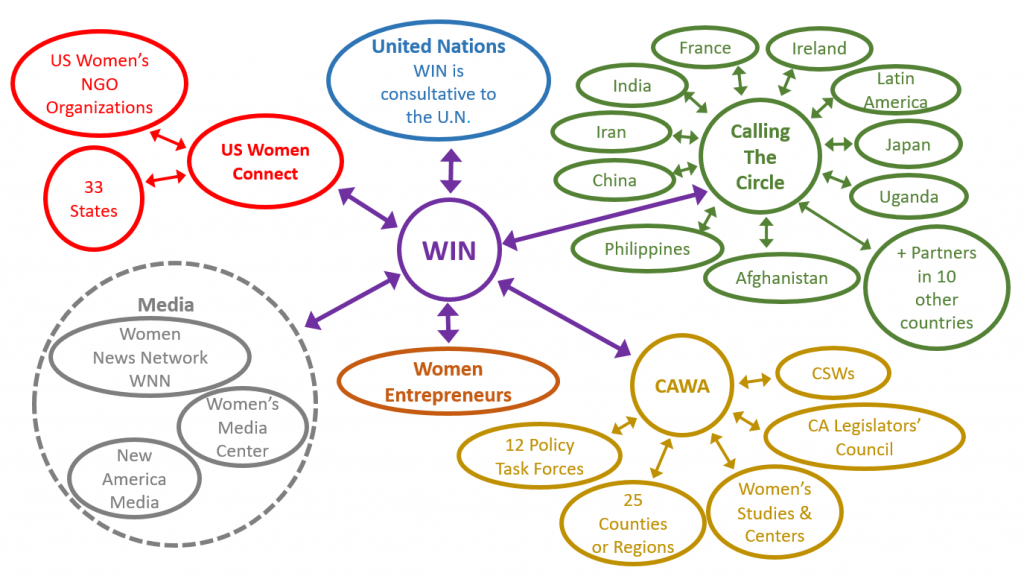 Women's Intercultural Network – UNIVERSE
Board of Directors
Jan Robinson Flint – Co-Chair
Charlie Toledo, Co-Chair
Sarah Almond Pike, Secretary
Helynna Brooke, Treasurer
Elahe Amani, Chair Global Council
Isabel Arrollo
Lenka Belkova
Elmy Bermejo
Jessica Buchleitner
Robin Endres
Margo Fleming
Molly D. Klett
Graciela Martinez
Ana Maria Sanchez
Ileana Winterhalter
Marilyn Fowler – President/ CEO
Advisory
Jane Bernard Powers – US Women's Caucus, UN
Julianne Cartwright Traylor – Former Co-Chair
Kathleen Cha – Former Co-Chair
Global Advisory Council
Synne Hall Arnoy
Bronagh A. Hinds
Hon. Annette Mukabera
Raihana Popalzai
Wu Qing
Raye Richardson, Ph.D.
Rosemary George Straley
Ross Uchimura
Yasuko Wachi, Ph.D
IT and Research
Amy Aquilino
Awiji Bahrami
Chris Fowler