WIN and US WOMEN CONNECT partners at the UN CSW 57, March 4, 2013
WIN works with many partners locally, statewide , nationally and globally. We connect them for larger, louder, smarter voices on Equality, Development and Peace – the UN women's mantra.
A major US partner is US WOMEN CONNECT . WIN was a founding partner of USWC with 29 other US organizations. We met in Illinois, October, 1996 to form an anchor organization to monitor implementation of the Beijing Platform for Action at the grassroots of America. Look at the US map at the USWC site for your state and get involved.
WIN also partners with 600 organizations in California including governmental organizations like the San Francisco Department and Commission on Women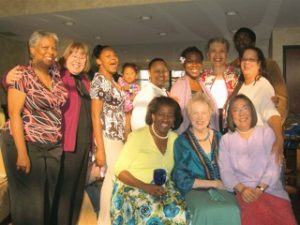 Alameda County, CAlifornia partners
We welcome you as a WIN partner. Join now as a member of WIN, and Organization Member of CAWA, or a
member of CALLING THE CIRCLE.
WHO WE ARE: ORGANIZATION PARTNERS; USA and GLOBAL
WOMEN'S NGO'S:
American Association of University Women
Breast Cancer Information Clearinghouse
California Women's Agenda; bringing the United Nations Platform for Action to the California grassroots
Fairness & Accuracy in Reporting (FAIR), with an excellent report on the representation of women in the Media
Feminist Majority: sign up for free email legislative alerts
Forum for African Educationalists
League of Women Voters; or find links to State and Local LWV websites
Ms. Foundation: A national, multi-issue, public women's fund funds and assists women's self-help organizing efforts, and pursues changes in public consciousness, law, philanthropy and social policy.
National Abortion Rights Action League (NARAL)
National Alliance of Breast Cancer Organizations (NABCO)
National Center for Missing and Exploited Children
National Council for Research on Women (NCRW)
National Organization of Women (NOW) has excellent and free email legislative alerts
National Women's Business Council's Forum for Women Entrepreneurs (FWE)
NWPC (National Women's Political Caucus)
For the NWPC Alameda North Chapter
Organisation for Economic Co-operation and Development
SBA's Online Women's Business Center
SEAC National Office (Women's Health: Tampons as a Public Health Hazard)
Sexual Assault Information Page
University of Texas at Dallas, School of Social Sciences
Vital Voices: Women in Democracy Movement
Women in International Security
Women in Technology International (WITI)
Women's Research and Education Institute
War Widows, a website where widows of all armed conflicts can share their stories
Women of Color Resource Center
Women's Caucus for Gender Justice
The Urban Institute, Washington, DC
GOVERNMENT RESOURCES:
California Commission on the Status of Women: contains links to other COSW's and women's organizations
California Department of Health Services Directory
California State Legislature Online, for tracking bills
CIA's Handbook of International Economic Statistics
Eurostat provides statistical and demographic information for countries in the European Union
Organisation for Economic Cooperation and Development (OECD)
President's Interagency Council on Women
San Francisco Commission on the Status of Women
U.C. Berkeley's California statewide database
U.S. Census Bureau: statistics
U.S. Congress, for tracking legislation; and a list of email addresses for Congress members
U.S. Department of Labor, for research on women in the workforce or try The Women's Bureau (an agency of the Department of Labor); see also the U.S. Bureau of Labor Statistics, an agency of the Department of Labor
U.S. Secretary of Human Health and Services Data Council coordinates data collection and analysis activities of the Department through an integrated health data collection strategy, coordination of data standards, and information dissemination and privacy policy activities
White House Resources for Women and Families
Women's Bureau of the U.S. Department of Labor
UNIVERSITIES WITH WOMEN'S STUDIES PROGRAMS:
Center for Women in Politics and Public Policy
Institute for Women's Policy Research
International Institute for Democracy and Electoral Assistance (IDEA)
Radcliffe Public Policy Institute
South Asian Women's NETwork (SAWNET)
SUNY at Stony Brook, Women's Studies
Women in Computer Science
INTERNATIONAL:
United Nations Report on the Fourth Conference on Women in Beijing
United Nations 1995 Beijing Conference on Women: the resulting Platform for Action
UN Commission on the Status of Women
International Beijing Plans of Action and strategies
UN Division for the Advancement of Women
Women 2000: Beijing Plus 5 Conference, the followup conference to the 1995 Conference
U.S. Response and Followup Report to the 1995 Beijing Conference
UNHCR (United Nations High Commissioner on Refugees)
USIA's International Women's Bulletin Board
Women'Action for New Directions (WAND)
WOMEN'S STUDIES ONLINE:
Academic research in women's studies, feminist theory
Women's Studies Resources, maintained by the University of Iowa. Annotated resources in: Activism, Art, Communication and Media, Development (WID), Feminist Theory, French Feminists, History, Literature, Music, Sports, General or mixed resources
Women's Studies in the World – Links to Women's Studies in the world, as seen from Europe
Women's Studies Periodicals. Maintained by the Women's Studies Department at Northern Arizona University. A comprehensive listing of the 100s journals, both online and otherwise, where much of the women's studies research takes place.
Women and Social Movements in the United States, 1830-1930/p>
SEARCH ENGINES, THINK TANKS AND FUNDRAISING LINKS:
The Ada Project: Internet Resources for Women in Computer Sciences
Center for the American Woman and Politics
Center for Women Policy Studies, Washington, DC
Center for Women's Global Leadership
Electrapages: A comprehensive search engine of 9,000 women's organizations in the U.S.
Foundation Center Online: invaluable tool for online grant research
Public Policy Institute of California
Search engine for Women's Orgs on the Web.
Wellesley Centers for Research
Women's Web: Women's Issues in the News